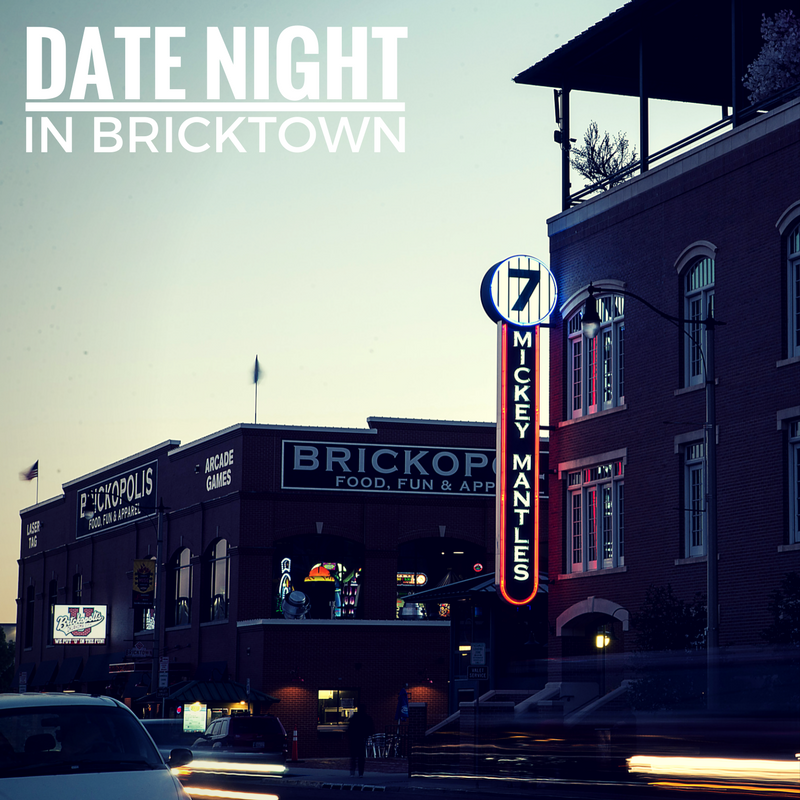 We've finally made it to the brightest time of the year. The sun is up longer, people are out late and all the action is here in Bricktown! If you're spending a date night out with your sweetheart, Bricktown offers a wealth of summertime events and festivities to keep you coming back for more.
If you're planning a visit to Mickey Mantle's for quality Wagyu steaks or our 500+ label wine selection, you should stick around to enjoy this dynamic district. After (or before) you've finished a memorable dinner at Mickey Mantle's, there are many options for the rest of your date. We've broken down a few of our favorite spots you should make time for during your night out:
Hit the Putting Greens at Brickopolis
One of the newest attractions to Bricktown is the appropriately named Brickopolis. Located just across the canal from Mickey Mantle's, this giant play center has arcades, laser tag and a full 18-hole outdoor mini golf course to enjoy. There's nothing like finishing a hearty meal at Mickey's and strolling right over for a fun evening alongside the gorgeous canal.
If mini golf is a bit too tame, their laser tag arena holds nothing back. It's sure to please action enthusiasts, young or old!
Take a Sunset Ride on the Canal Water Taxi
The water taxi is a Bricktown classic. Operating for nearly 20 years, these yellow and green boats have ferried residents and visitors along the canal that Bricktown surrounds. There's no better way to experience the sights and sounds of the district than from the deck of a water taxi.
The best part about the canal water taxi in the summertime is that it runs until sunset! You can enjoy the gorgeous Oklahoma skies at dusk with your date, all without leaving your seat on the boat.
The ticket booth for a taxi is right outside Mickey Mantle's in the small kiosk. It's a perfect way to cap off your beautiful dinner at our restaurant.

Enjoy a Magical Carriage Ride through Bricktown
Looking to stay above the canal? Take your date to the streets with a horse-drawn carriage ride through the brick-laden streets with Cameo Carriages. Their valiant steeds will take you around on a 15- or 30-minute ride around Bricktown, showing you the wonderful architectural and nightlife sights at a leisurely pace.
Just take a short walk south of Mickey Mantle's Steakhouse on the corner of Reno and Mickey Mantle Boulevard. You can book a ride on a first come, first served basis.
Rock out to a Concert at the Chesapeake Energy Arena
One major advantage of dining at Mickey Mantle's is our proximity to major venues like the Chesapeake Arena. Planning a concert outing with your date? You can dine at Mickey's beforehand and enjoy a complimentary limo ride straight to the venue. No more hassling with Arena parking. You'll arrive in style and get picked up after the concert to return to your vehicle.
Need a concert idea? None other than Garth Brooks will be performing with Trisha Yearwood on July 14th. Start your electrifying night of country music with dinner at Mickey's, and we have your ride covered.
Pregame for the Dodgers in the #7 Lounge
If you'd prefer a more communal atmosphere, you can easily move your dining experience into the #7 Lounge. Sundays through Fridays we offer a specially-curated bar buffet, ½ price appetizers and $2 domestic bottled beers from 4:30 to 7:00.
There's no better place for you to camp out before the game. Our comfortable and classy #7 Lounge will surround you and your date in dark wood and leather, along with the best food in Oklahoma City. When you're ready to hit the ballpark, it's just a short trek across the street from the stadium!

Or You Can Stick with Mickey's for Date Night Fun
Clearly, there is a wide variety of great date night spots to follow or precede your spectacular dinner at Mickey Mantle's. Bricktown is built to entertain.  If you want to keep the fun going without venturing too far, you could easily spend the whole night with us!
Appreciate Live Music in the #7 Lounge Every Weekend
Looking to cap off your date night dinner with some art and sound? Each weekend we offer live music to our guests in the #7 Lounge. Finish up your meal in our dining area and transition over to our upscale bar and lounge. When you arrive, you can be serenaded by our weekly musical acts. Our events calendar is packed with groups and artists, so you can plan your date night accordingly.
You and your date can enjoy your feast, live music, friendly staff, and specialty cocktails all in one Bricktown location. We guarantee a night you'll never forget, and most of all, a date night you'll want to relive again soon.