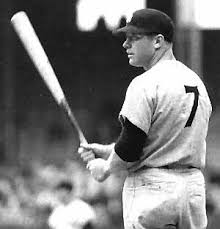 We at Mickey Mantle's Steakhouse draw inspiration from the life & career of our namesake daily. Our admiration for this Oklahoma hero is why we are very happy to announce a new exhibit at the Oklahoma History center entitled Mickey Mantle: Baseball Hero in Black and White
This exhibit will be on display in the museum's Chesapeake Events Center from April 1 through September 15 and includes black-and-white images originally published in the Daily Oklahoman newspaper. The photos span from 1950 to the 1960s and depict "The Mick" in his personal and professional life. The Mickey Mantle photo exhibit will utilize the original reporters' captions to highlight on-field and off-field milestones of the Baseball Hall of Famer.
In celebration of this exhibit, Mickey Mantle's Steakhouse has partnered with the Oklahoma History Center to offer Buy One, Get One free admission to the museum. Next time you dine with us, pick up a voucher at the host stand to claim the offer during your visit to the Oklahoma History Center. While you are in, purchase a Mickey Mantle's Steakhouse baseball cap to wear to the museum & you will receive $2 off admission. Due to the possibility of private events, we recommend you call ahead to ensure the exhibit is open to the public the day of your visit. To contact the admissions desk please call (405) 522-0765. Offer expires 9/15/2016.