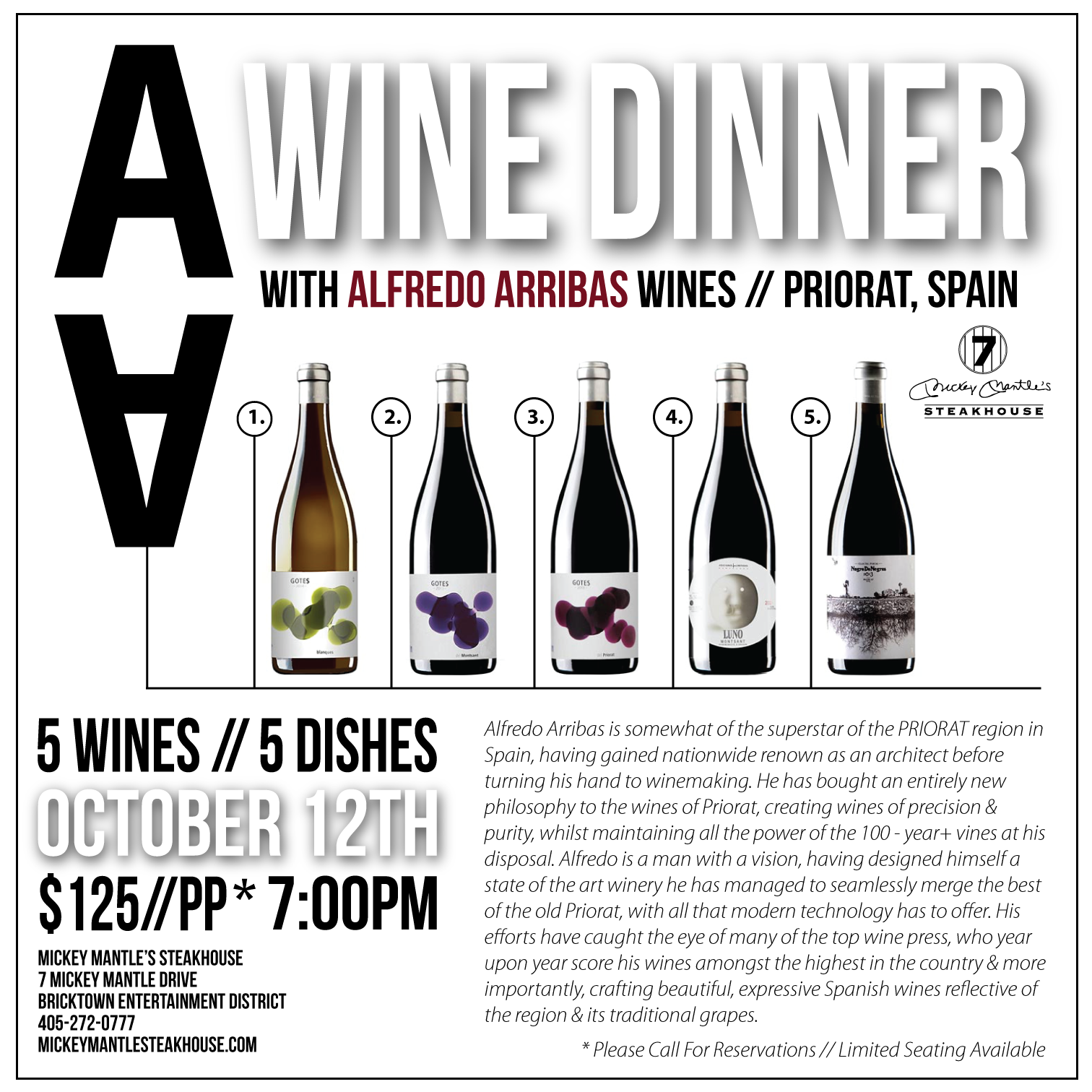 Join us for an intimate Wine Dinner featuring Alfredo Arribas wines. Enjoy a delightful menu created by the talented Mickey Mantle's Steakhouse culinary team while sampling a unique and exclusive selection of wine from Priorat, Spain. Guests will begin the evening with a wine reception, followed by a five-course wine-paired dinner. A perfect union of fine wine and upscale cuisine artfully paired by Executive Chef Juan Torres.
Alfredo Arribas is somewhat of the superstar of the PRIORAT region in Spain, having gained nationwide renown as an architect before turning his hand to winemaking. He has brought an entirely new philosophy to the wines of Priorat, creating wines of precision & purity, whilst maintaining all the power of the 100-year + vines at his disposal. Alfredo is a man with a vision, having designed himself a state of the art winery he has managed to seamlessly merge the best of the old Priorat, with all that modern technology has to offer. His efforts have caught the eye of many of the top wine press, who year upon year sore his wines amongst the highest in the country & more importantly, crafting beautiful, expressive Spanish wines reflective of the region & its traditional grapes.
View menu below.
WHEN: Wednesday, October 12th at 7:00 pm
WHERE: Mickey Mantle's Steakhouse, 7 S. Mickey Mantle Drive Bricktown, Oklahoma City, OK
COST: $125 per person (excluding tax & gratuity)
This is a limited seating event.
Please call to reserve your seat, 405-272-0777 or email brooke@mickeymantlesteakhouse.com
Menu
Greet – Cava Wine
First Course
Portal del Priorat 2015 Gotes Blanques
Fresh Scallop with citrus relish
Second Course
Portal del Priorat 2013 Gotes del Monstant
Burrata cheese salad, grilled squash, basil pine nut pesto, basalmic pearls and red wine poached figs
Third Course
Portal del Priorat 2014 Gotes del Priorat
Seafood Paella
Fourth Course
Portal del Priorat 2013 Edicones i Limitadas Luno
5oz. Filet Newburg with king crab and manchego risotto
Fifth Course
Portal del Priorat 2014 Clos Portal Negre De Negres
Dark chocalate chili truffles with dark berry salad