September is Bourbon Heritage Month!
SEPTEMBER IS BOURBON HERITAGE MONTH:
CELEBRATE WITH MICKEY MANTLE'S AND BULLEIT
New drinks and dishes served up all month!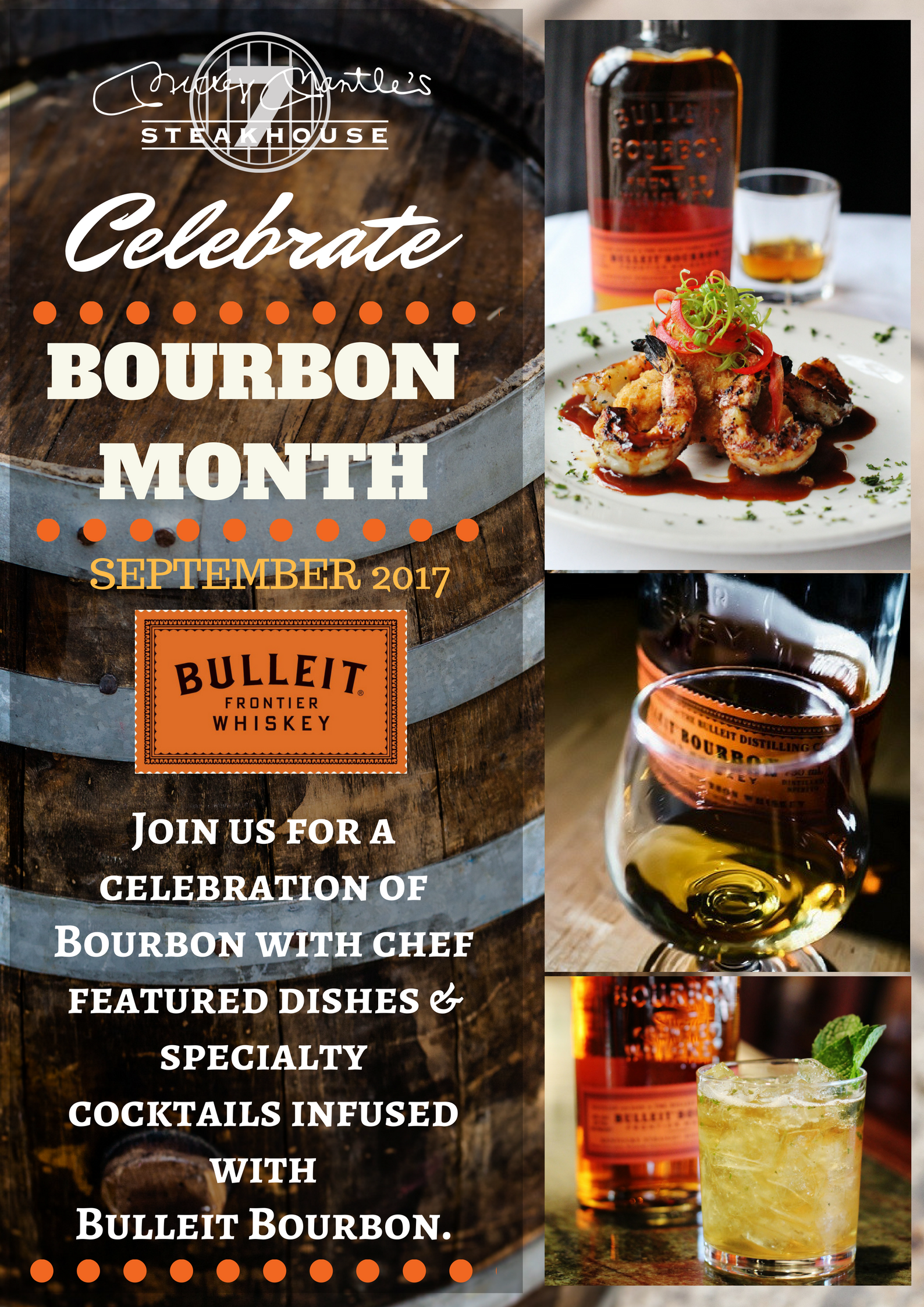 What better way to get into the spirit of fall than with savory bourbon? This month, Mickey Mantle's is celebrating the refined and powerful taste of bourbon with Bulleit. All month long, we will be giving you the opportunity to enjoy our chef's featured dishes and creative hand-crafted cocktails that have all been thoughtfully created to feature Bulleit Bourbon!
Throughout the month we'll be changing our selection to include all new featured dishes that highlight Bulleit's unique and captivating flavor. Our aim is to celebrate bourbon's rich complexity of flavor by taking both the beverage and our dishes to new and exciting places, and any bourbon fans will definitely need to check back often throughout September and try all of our special dishes.
Your palate won't want to miss this tantalizing celebration so be sure to enjoy Bourbon month this September at the best steakhouse in OKC!
Get the first look at our featured dishes & current promotions by following us on Facebook & Instagram @MickeyMantles and Twitter @Mickeys_Steaks!
Make reservations by calling 405.272.0777 or Visit us online today at www.MickeyMantleSteakhouse.com
5 Things You Didn't Know About Bourbon
1. The name originally derives from the House of Bourbon
They were French royalty who first came to power in the 16th century and eventually ruled over France, Sicily, Spain, Luxembourg, Parma, and Naples.
2. It doesn't have to be made in Kentucky
Although 95% comes from the Bluegrass State, Kentuckians don't have an exclusive claim. It can be made in other states, but it does need to be made in the United States.
3. The Rules
Bourbon must be made from at least 51% corn, aged in new charred oak barrels, begin barrel-aging at no more than 125 proof, and be bottled between 80 and 160 proof.
4. The Technicalities
Unlike those drinking it, bourbon doesn't need to be a certain age. But to be called straight bourbon it must have sat for at least two years, and can't have any added flavors or colors. The adulterated but not-yet-adult versions are referred to as blended bourbon.
5. Those barrels better be charred, and only used once
The barrel staves that hold the glorious liquor are toasted to bring caramelized sugars out of the wood, fired to evenly charcoal the interior, and then rung together with metal. Lastly, they're plugged up with a top piece of wood called a bung. After the barrels have been used once they can no longer be used for bourbon again, and are often recycled to use for aging Scotch.