Mickey Mantle Day July 7th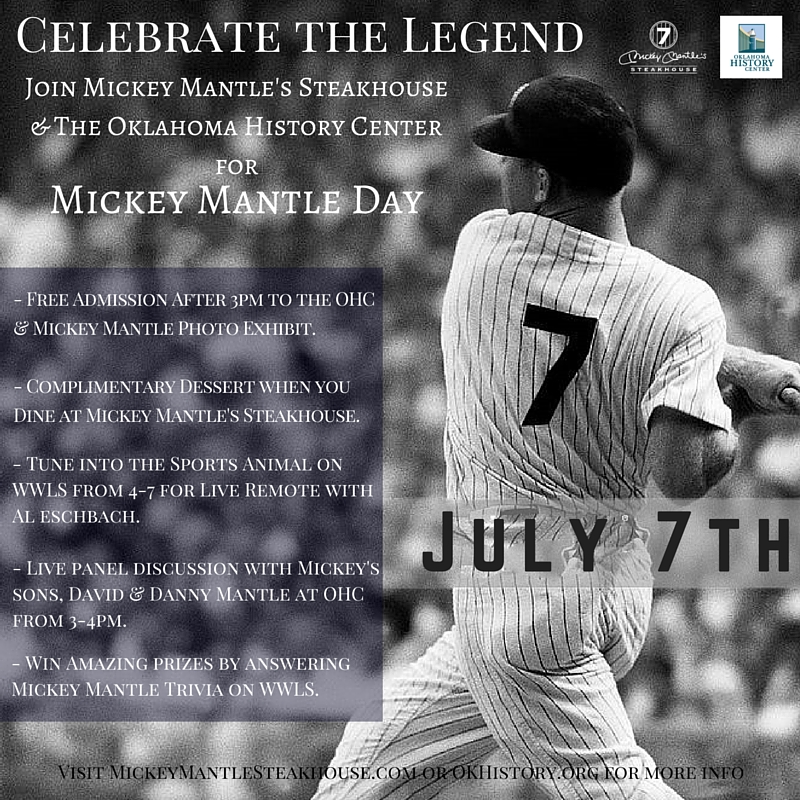 Join Mickey Mantle's Steakhouse and the Oklahoma History Center on July 7th for Mickey Mantle Day to celebrate the life of the legendary "Commerce Comet".  Mickey Mantle fans are invited to participate in a myriad of events & offers that have been organized to honor "The Mick".
The Oklahoma History Center is offering free admission to all galleries including the Mickey Mantle Photo Exhibit after 3:00 pm.
WWLS "The Sports Animal" will be at the Oklahoma History Center hosting a live panel discussion with Mickey Mantle's sons David & Danny Mantle from 3:00-4:00 pm and will begin a live remote from 4pm-7pm with Al Eschbach & Berry Tramel.
Stay tuned to WWLS for a chance to answer Mickey Mantle trivia questions to win some amazing prizes including: a night stay at the Hampton Inn & Suites overlooking the Chickasaw Bricktown Ballpark, family membership to the Oklahoma History Center, a pair of tickets to the OKC Dodgers game & a $75 Mickey Mantle's Steakhouse Gift Card!
Finally, complete your Mickey Mantle Day celebration by enjoying a complimentary dessert when you dine at Mickey Mantle's Steakhouse.
Save