Elevate your summer grilling with a Cookout Kit from OKC's best steakhouse.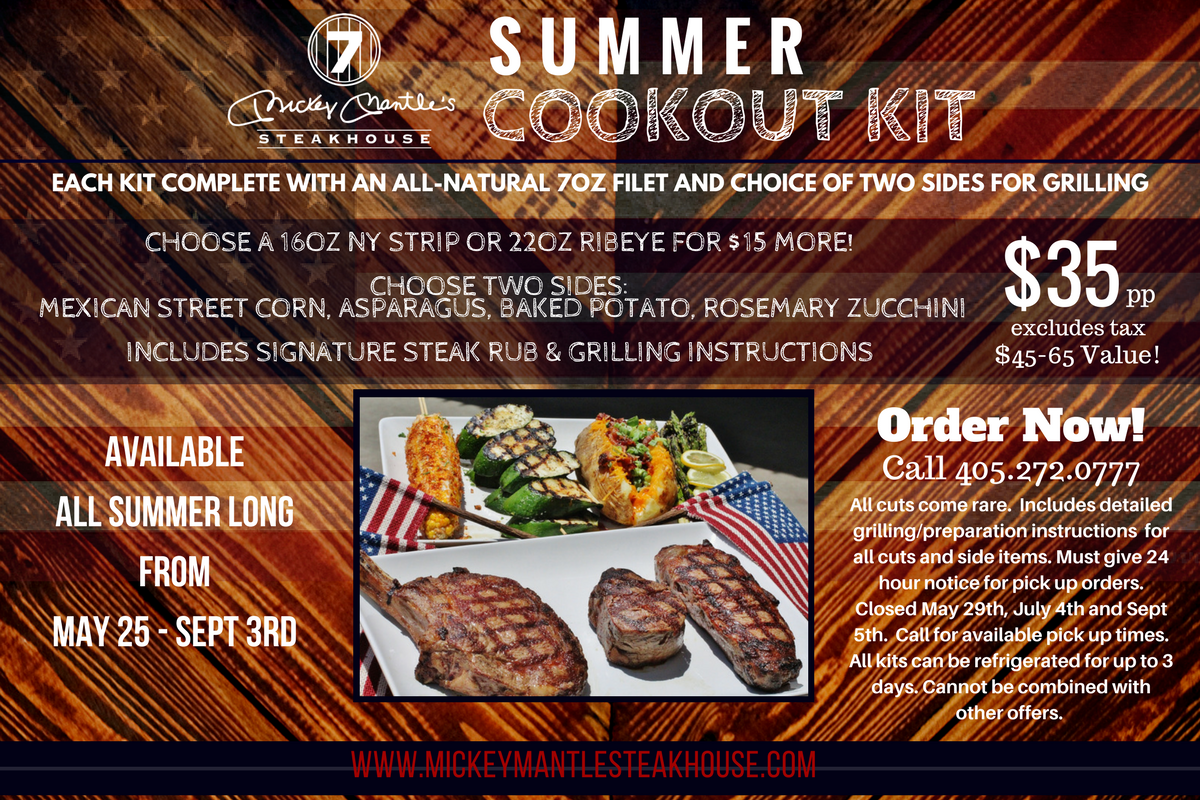 Summer time is all about adventure, fun & grilling! Wherever your summer vacation takes you, bring Mickey Mantle's Steakhouse along by ordering a Summer Cookout Kit.
Your guests will never forget the amazingly tender beef you grilled during your summer bash when you start with our cookout kit. Specially priced at $35 per person, but valued from $45-$65, each kit comes with your selected cut and two side options plus so much more.
Here's how it works:
For each person you choose your cut
7 oz. Filet
16 oz. New York Strip ($15 more)
22 oz. "Cowboy Cut" Rib Eye ($15 more)
Then choose two side items
Asparagus
Mexican Street Corn
Baked Potato
Rosemary Zucchini
All cuts come rare with tin of our signature steak rub. We will also include detailed grilling/preparation instructions from our chef for all cuts and side items. This allows you the ability to grill to your desired temperature and gives you the tips and tricks you need to do it to perfection!
Cookout Kits are available ALL SUMMER LONG from May 25th – September 3rd. Guests at any party from Memorial Day to Independence Day all the way through Labor Day will feel like royalty when you treat them to Mickey Mantle's all-natural beef!
Call now to order at 405-272-0777.
Must give 24 hour notice for pick up orders. Closed May 29th, July 4th & September 5th. Call for available pick up times. All kits can be refrigerated for up to 3 days. Cannot be combined with other offers.