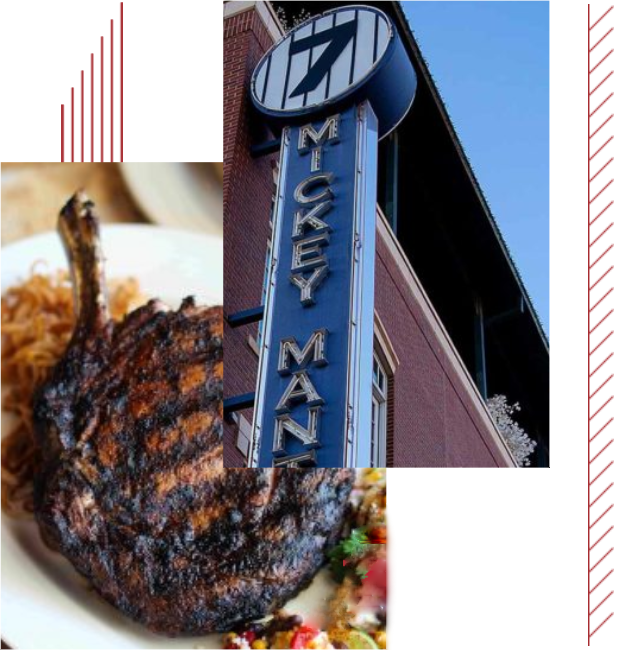 MICKEY MANTLE'S
FINE DINING RESTAURANT
With every grilled signature steak or glass of robust wine, we step up to the plate to provide our guests with an exceptional fine dining experience in Oklahoma City.
Established in 2000 on the iconic Mickey Mantle Drive in OKC's historic Bricktown, Mickey Mantle's Steakhouse Restaurant welcomes guests with food fit for a legend. Named after Oklahoma's own Mickey Mantle, our Oklahoma City steakhouse restaurant dazzles with a constantly evolving, chef-driven menu, a wine list featuring hard-to-find vintages and fresh harvests alike, and a warm atmosphere rich in comfort.
Sample wines from our extensive wine list. Relax and enjoy in our #7 Lounge for a fine cigar and scotch, or immerse yourself in the full Mickey Mantle dining experience showcasing delectable culinary flavors, all served with complete attention to detail and your enjoyment.
Enjoy rare, world-class wines expertly paired with any course on the menu at Mickey Mantle's Steakhouse Restaurant in Oklahoma City. As approachable as it is diverse, our award-winning wine collection features nearly 500 labels, both domestic and international. Every bottle has been thoughtfully hand-selected by our wine director with a focus on California vineyards.