PRIVATE DINING AND
BANQUETS IN OKLAHOMA CITY
From business dinners to banquets, we have a private dining venue for you.
Find Oklahoma City's perfect private dining setting at Mickey Mantle's Steakhouse. Dedicated to providing each guest an amazing dining experience, we can help you celebrate your anniversary in an intimate setting, show out-of-town business associates a good time, or host a rehearsal dinner or banquet for 75. Impress your guests with our innovative, delectable menus, our rich atmosphere, and our exceptional service.
We have four private dining rooms with a variety of set menus to choose from. We are also happy to custom create a menu that suits your event or preferences. Our commitment to quality food, impeccable service, and warm hospitality ensures that everyone at your event will receive the ultimate fine dining experience. As Oklahoma City's best banquet and private dining venue, Mickey Mantle's offers a professional banquet coordinator to make sure your event is exactly what you expect it to be
Make Mickey Mantle's your choice for fine cuisine and excellent service for all your private dining, special events, and private event space needs.
Book your event today or contact our Private Event Coordinator for a tour or additional information by
emailing sarah@mickeymantlesteakhouse.com or calling (405) 406-5093.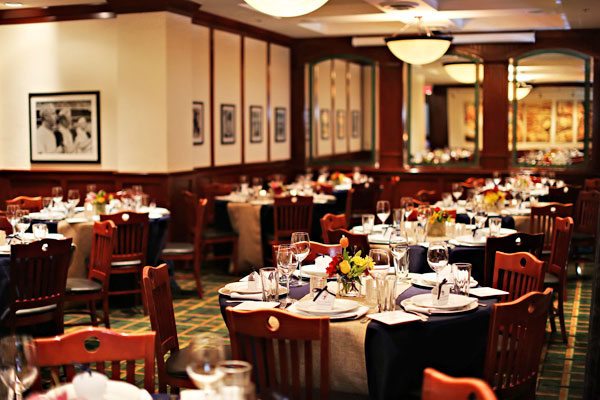 The Banquet Hall
Capacity | Sit Down: 66 guests, Reception: 75 guests
The Banquet Hall is Mickey's largest private event space, holding up to 66 guests for a sit down dinner. The room displays a collection of photographs chronicling Mickey Mantle's life. A beautiful mural with a collage of Oklahoma City's signature landmarks makes it a unique and impressive setting for rehearsal dinners, business events, and other special occasions. The Banquet Hall also comes equipped with a high tech AV system with short beam projectors and large screens on both sides of the room to ensure optimal viewing during presentations.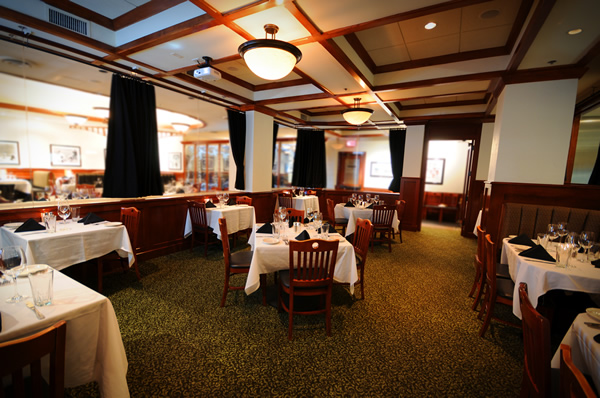 The Glass Room
Capacity | Sit Down: 24 guests, Reception: 30 guests
Surrounded by tall glass panels, the Glass Room is a private event space that provides a perfect bird's eye view of both the main dining room and kitchen. Guests have the option of making the Glass Room completely private by drawing tall black curtains or keeping the room semi-private. The Glass Room holds up to 24 guests and comes equipped with a projector and screen for presentations.
The Board Room
Capacity | Sit Down: 10 guests
The Board Room at Mickey Mantle's Steakhouse allows up to 10 guests to enjoy a truly upscale, private dining experience. Richly designed with a beautiful solid wood table, comfortable black leather chairs, and exposed brick, the Board Room will leave a lasting impression on the guests of your private event, while providing premiere food and beverage service. Fully equipped with a top of the line audio/visual system and wireless internet, the Board Room offers an ideal setting for business meetings, dinner programs, celebrations, wine dinners, and special tasting events.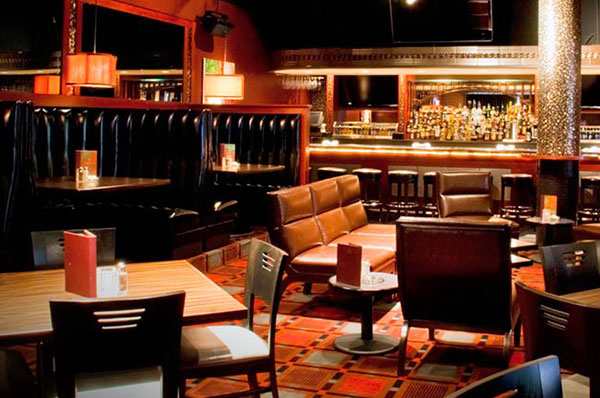 Commonly known for the best bar atmosphere in OKC, Mickey's #7 Lounge is also available for private parties and events, and is ideal for special events and bachelor parties.
Your choice for fine cuisine and excellent service.