National Filet Mignon Day! – August 13th
National Filet Mignon Day!
One of our favorite days of the year is coming up and we can't wait to celebrate with you! Join us for National Filet Mignon Day on Sunday, August 13th.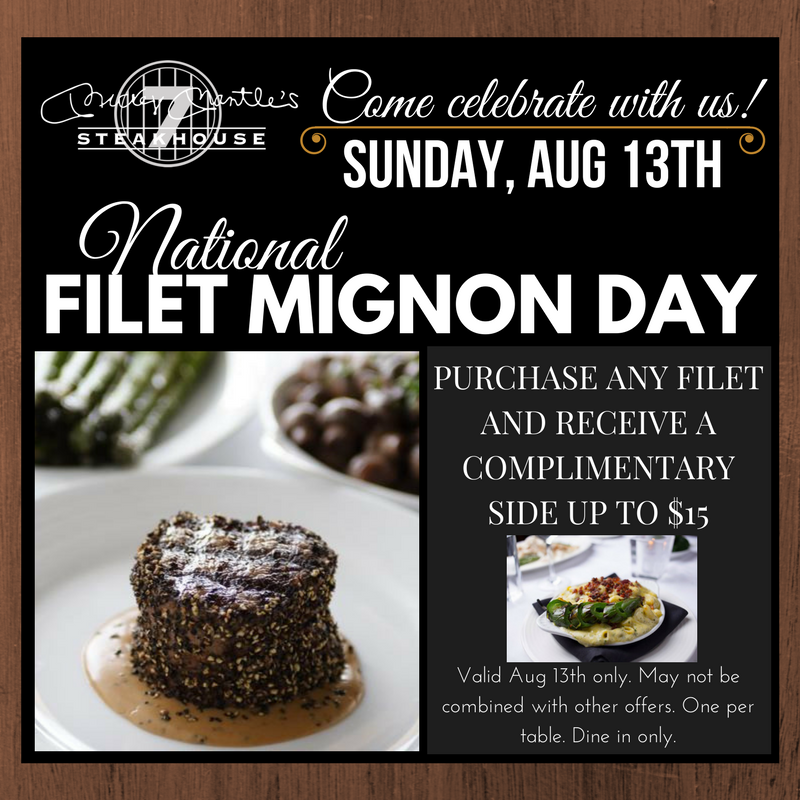 National Filet Mignon Day is devoted to one of the most sought after and popular cuts of beef available. We are celebrating by offering a complimentary side (up to $15) with the purchase of any filet when you mention National Filet Mignon Day!
Filet Mignon is a tender cut of beef considered the king of steaks because of its tender, melt in the mouth texture. A prime filet can literally be cut with a fork. Filet Mignon comes from the French filet meaning "Thick Slice" and mignon meaning "dainty".
What makes this cut special is where it comes from. Filet mignon comes from the small end of the tenderloin which is found on the back rib cage of the animal. This area of the animal is not weight-bearing, thus the connective tissue is not toughened by exercise resulting in extremely tender meat.
At Mickey Mantle's Steakhouse we offer a diverse selection of high quality filets ranging in type and preparation including: wet & dry aged, smoked steaks, bone-In options, Japanese Wagyu & authentic Japanese Kobe beef. (Please call us at 405-272-0777 for our current selection.)
Additionally, you have the option of one of our famous styles of preparation: feeling spicy? Ask for your filet Pepper Steak style. We'll roll it in fresh cracked black peppercorns & serve it with our Cognac Pepper Sauce. Feeling cheesy? Try your filet Roquefort style and we will accompany it with our Roquefort cream sauce and some fresh Roquefort cheese. Inquire with your server about additional options such as adding Oscar style topping or a specialty compound butter or infused salt.
You may have had a filet before but if you've never had a filet from Mickey Mantle's Steakhouse you are missing out! Join us on Sunday, August 13th for a filet to remember when you celebrate National Filet Day at OKC's Best Steakhouse!