Things to do in Bricktown in December
December in Oklahoma City has an endless amount of entertainment options. Between the Oklahoma City Thunder games to snow-tubing across the street at the Bricktown Ball Park, you will never be without choices when it comes to evening activities. Mickey Mantle's is centrally located and a short carriage ride to all of these events.
Devon Ice Rink – Open through January 31, the Devon Ice Rink at the Myriad Gardens is a place where you and your honey and/or family can enjoy a unique experience in the middle of Downtown Oklahoma City. With a nip in the air, be sure to bundle up and lace your skates tight to enjoy ice skating in the Gardens. Myriad Garden members skate for $7 while non-member pricing is $12, which includes your skate rentals.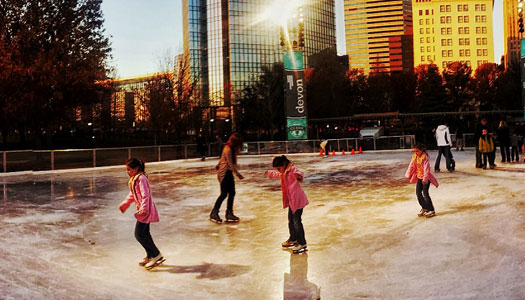 Monday – Thursday,  3-9 p.m.
Friday, 3 – 11 p.m.
Saturday,  11 a.m. – 11 p.m.
Sunday, 11 a.m. – 7 p.m.
Rockin' DJ at the Devon Ice Rink from 6 – 9 p.m. every Friday night through January 1.
Holiday Water Taxi Rides – Just below the entrance of Mickey Mantle's on the canal level, the Bricktown Water Taxis are getting in the holiday spirit with holiday-themed water taxi rides, absolutely free. The 20-30 minute fun-filled ride along the canal lets you explore and learn more about the Bricktown District at no cost and is perfect for the family while having a night out on the town.  Thursdays – Sundays from 6 p.m. to 9:30 p.m.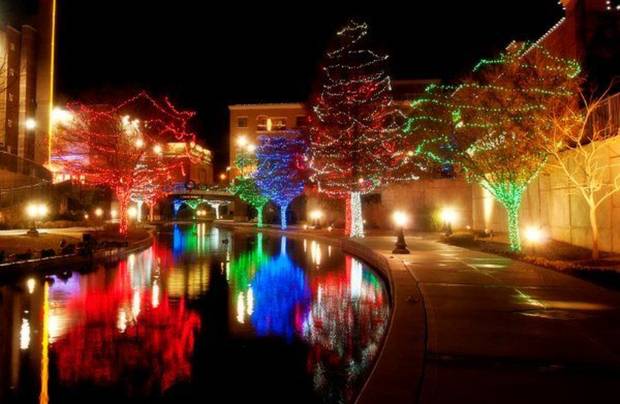 Bricktown Canal Lights – The Bricktown Canal Lights will brighten anyone's Bricktown experience The canal lights will illuminate lower bricktown through January 1, giving you plenty of time to enjoy them as you stroll along the canal or a take advantage of a free Holiday Water Taxi Ride..
Snow Tubing – Can't wait until spring to get back to the baseball stadium to cheer on the Oklahoma City Dodgers? You may have to wait a little longer for baseball, but snow tubing inside Chickasaw Bricktown Ballpark is happening now! There is more than just snow tubing taking place too. From Santa's Workshop to the new children's train, lights and holiday décor, each snow tubing, holiday fun-filled session is 90 minutes long and can entertain the whole family. Tickets can be purchased through ticketmaster.
Winter Shoppes at Myriad Gardens – This week is your last chance to visit the outdoor shopping village that showcases beautiful Downtown OKC and features local retailers including: Anabelle's, Calamity Jane's, Coco Flow, Exhibit C, Full Circle Books, Gil's, Gretta Sloane, Gypsy Sol/Beyond Alley, Learning Tree, Live Boho, Madeline's, Mel's Closet, Perch'd, Savvy, Scissortail, Stella &Dot, Sweets & Spurs, Therapy, Udander and Uptown Kids.
Oklahoma City Thunder – A holiday mainstay since 2008 has been Oklahoma City's NBA team, the Oklahoma City Thunder. Whether you're naughty (Russell Westbrook) or nice (Kevin Durant), the Oklahoma City Thunder provides endless amounts of entertainment throughout the month of December. Mickey Mantle's has been the first and last stop for many Thunder fans for years now and we offer our VIP experience complete with limo ride to and from Chesapeake Energy Arena.
Remaining Thunder Home Games:
Saturday, December 19 @ 4pm – Los Angeles Lakers
Christmas Day, Friday, December 25 @ 1:30pm – Chicago Bulls
Sunday, December 27 @ 6pm – Denver Nuggets
Tuesday, December 29 @ 7pm – Milwaukee Bucks
New Year's Eve, Thursday, December 31 @ 7pm – Phoenix Suns
The Nutcracker Ballet – If you've never been to the Civic Center Music Hall, you have been missing out. Constructed in 1937, the facility includes the Thelma Gaylord Performing Arts Theatre , the Freede Little Theatre, CitySpace, the Meinders Hall of Mirrors and the Joel Levine Rehearsal Hall. In fact, President Franklin D. Roosevelt's New Deal contributed to 55% of the neoclassical and Art Deco designed building.
Today, the Oklahoma City Ballet spends the holiday season telling the story of The Nutcracker in the Civic Center Music Hall. Everyone knows the story, but experiencing the Nutcracker prince and the Sugar Plum Fairy with the elegance of the OKC Ballet will surely create a lifetime memory. Tickets are available through OKCballet.com and the last show of the season is Tuesday, December 22 at 7pm.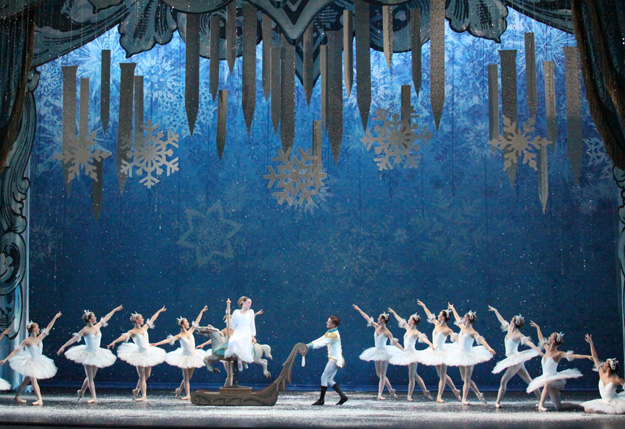 Trans-Siberian Orchestra – Need a little rock in your life? The Trans-Siberian rock holiday tradition is back in Oklahoma City once again on Wednesday, December 23 with performances at 4 and 8 p.m. at Chesapeake Energy Arena. If you have yet to experience holidays the TSO way – laser light shows and rocking holiday tunes will fill the arena in a way you won't forget with this year's theme, "The Ghosts of Christmas Eve.". Buy your tickets online at ticketmaster.com.
https://youtu.be/xDwdmF2XjKc
Don't forget our New Year's Eve party happening on December 31. We will be ringing in the New Year in style. Reservations are now open for New Year's Eve and we are offering an exciting four course set menu. Call 405-272-0777 to save your seat at the table now!