National Steakhouse Month – Special Offer!
June is National Steakhouse Month!
Join us this month in celebrating the steakhouse, a uniquely American restaurant, as we recognize and promote the art of expert grilling.
A steakhouse is defined as a restaurant that specializes in serving steaks. This definition is correct but also limited, because a great steakhouse, like Mickey Mantle's, is so much more! At Mickey Mantle's Steakhouse we specialize in not only steaks, but a variety of delectable cuisine and fresh seafood, hand crafted cocktails, fine wine, sought after cigars & superior service.
In order to celebrate National Steakhouse Month, we cordially invite you to join us for dinner during the month of June. While you are here, show your server this post to claim our special offer for $10 off the purchase of a Prime 22 oz. Cowboy Cut Rib Eye!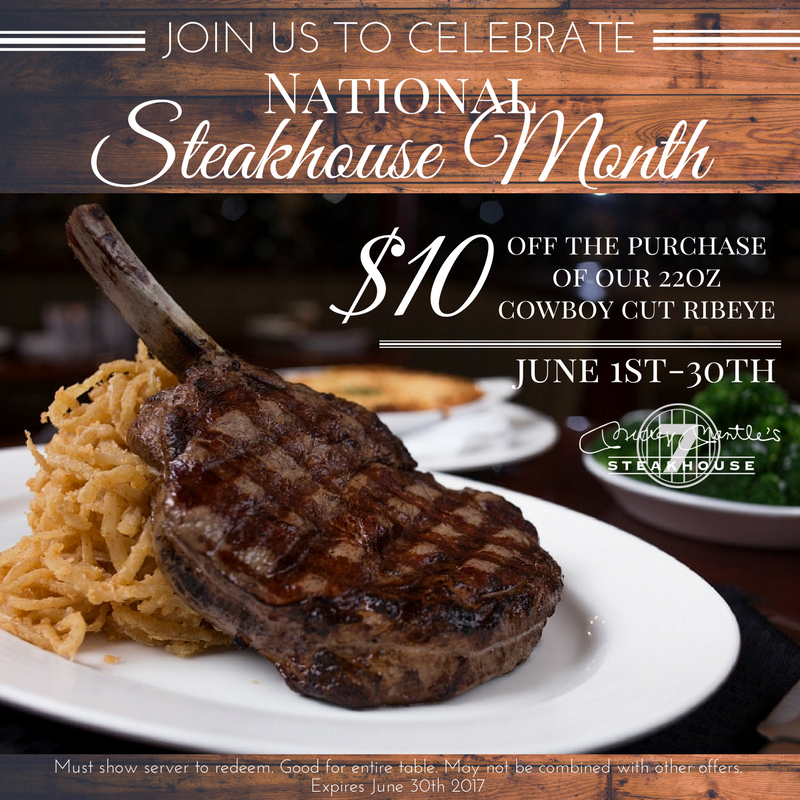 Mickey Mantle's is also known for our fantastic all-natural beef sourced from Nature Source. This Prime beef is humanely & ethically raised with limited stress in antibiotic-free, hormone-free grass and additive-free environment. The cattle are pasture raised and 'finished' on 100% corn for an average of 150 days which yields an extremely tender, flavorful steak.
Keep your eyes on our Social Media pages (Facebook, Twitter & Instagram) for a special look all the things we have to offer, including all-natural, wet & dry aged beef, specialty cut options & the king of beef, Japanese Wagyu!
Rib Eye offer cannot be combined with other offers. Good for entire table. Must show server to claim. Expires June 30, 2017.